Pesach @ ChabadJoin us for a fun, meaningful Pesach experience! Community Seder, Holiday Services, food and more!

Read More

Mitzvahs & TraditionsShabbat, kosher, mezuzah, tefillin, mikvah . . . The essence of Judaism is in its rituals and observances. A selection of websites offering information and guidance on some of the most basic mitzvot.
About Us
Chabad of North Phoenix was founded with an over-arching vision. Although Jews may embrace many levels of observance in their personal lives, there should be a place for all Jews - no labels, no affiliations - to develop a sense of community, to enhance the experience of being Jewish, to learn and to have fun. With tolerance, sincerity and deeply rooted values, Chabad can help you find that Jewish Center in your heart. We believe that Jews are Jews, regardless of affiliation or personal level of observance. There is no charge for membership or pastoral services. Voluntary donations are appreciated but not required. All are welcome.
Learn More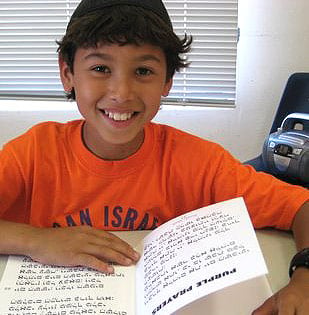 Imagine a child who feels the warmth and spirit of Judaism…
More Info
Learning & Inspiration
Let G-d Do the Rest When a Jew commits to doing something positive, we are assured that G-d will help him.

Read More

Take the Passover Foods QuizDo you know what Jews eat on Passover and what these foods signify? Take this quiz and see for...

Read More

How a Jewish Woman in Florida Learned to Be Free in Prison"Being Jewish is what carried me throughout my time in jail," says Sara.

Read More
Shabbat & Holidays

Candle Lighting Times
Phoenix, AZ 85050
Light Candles at
Shabbat Ends


Upcoming Holiday
Apr. 5 - Apr. 13
Daily Thought
Rabbi Alexandri said, "Master of the Universe! It's obvious to You that we want to do what You want done. So what is holding us back? The yeast in the dough!" (Talmud, Berachot 17a) What is so terrible about chametz, that once a year, for the Festival of Freedom, we must search, burn and destroy any trace of it in our possession? Because yeast makes a little dough into a big loaf of hot air. And that pretty much describes the fundamental gameplay of all that imprisons you. It's like the yeast that takes your healthy need to earn an honest living and blows it up into a desperate need for recognition and yet more recognition. Or like...